A few people have posted saying they are worried about the effects of overheating with the packed lower chamber of the TMs and GMs.  I have my doubts as to whether this will be a real worry but, as always, it seemed to be something I could have a bit of fun with and was easily helped.
I already have a home made base unit for the amp.  A simple bit of MDF with rings stuck on it to locate and hold the feet and a slot cut out to locate over the cabinet handle makes it a rock steady platform.  I just extended this idea to include my cooling setup.
I found a pair of compact twin 12V HDD fan units on ebay for £0.99 each including p&p so I snapped them up. These had two ball bearing fans mounted on a thin black aluminium frame so all of the hard work was done.  I did a rethink of the base to include a layer with cutout for mounting the fans and another below it as a space to allow air in.  I made deep depressions for the amp feet to stabilise it and to lower the bottom to almost touch the fan unit.  I then mounted a 2.1 x 5.5mm DC socket on a small aluminium plate on the back to take a 12V 1A wall wart, and a couple of plastic mesh dust screens on the underside and voila!  I was ready.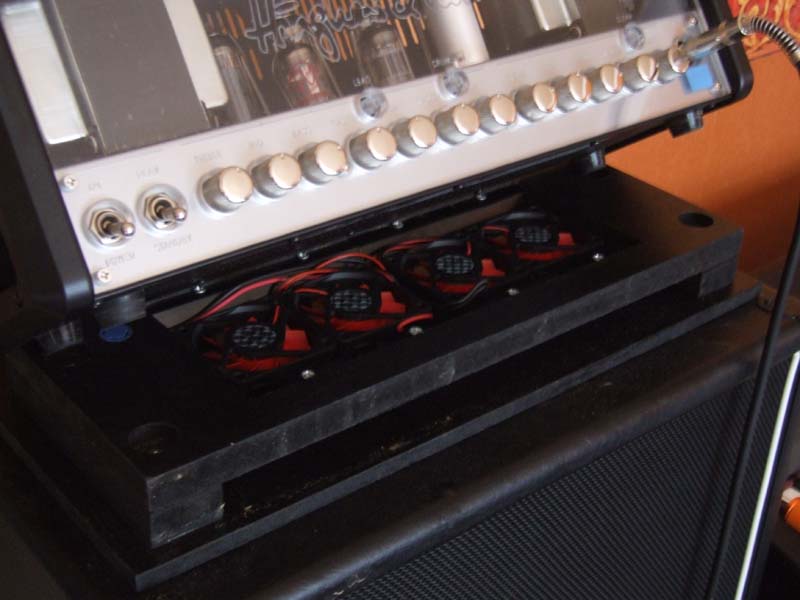 " />
The image is not very clear but it does show the idea. I can take more detailed pics of the parts if anyone is interested and wants to do something similar. I will say a router (as in "now" not "who") was essential to making up my own idea but I'm sure I could have been less fussy and done it all with plain old hand tools and a bit more time, and other ideas may be simpler.
It still needs tidying up and finishing off properly but its not too ugly to look at, and it works a treat.  I have some black P-section draught excluder coming to stick in place on the top surface and make a seal around the outside of the bottom vents on the amp. It will then sit directly on that and give even more throughput of air. Even at this stage though, you can clearly feel the current of forced air coming out of the top rear vents.  I hope it's not too much, those EL84s are meant to run fairly hot. Now as to the idea of temperature sensing and fan speed control....