Yes, you MUST use a SLOW blow fuse, a fast blow will not stand the surges at switch on and in heavy use.
Does the fuse blow when you are using the H&K 8ohm 112 cabinet?  H&K say that any impedance between 8 and 16ohm is acceptable but I wonder like you whether the 16ohm Marshall cab is perhaps a little beyond the upper range and the amp doesn't like it.  With a valve amp it is important to get the impedance matched as closely as possible to the correct value for the output stage.  This means less energy will be wasted by being released in the output stage as heat.  The further away from the correct match you get in either direction, the more energy is wasted inside the amp's output stage. H&K are unusual in allowing that wide range of impedances.  Their output stage must be very well engineered to cope with it.
It may be as simple as the cabinet being too high impedance.  You are right that if you measure it weith a meter you will see a very different value to its stated impedance.  You can't measure the impedance of a speaker correctly without specialist equipment.  A meter will only tell you the DC resistance, and the impedance is made up of much more than that.  It has high inductance and capacitance involved too.  H&K models some of that in its Redbox setup!  If you look at any speaker's impedance as given by the manufacturer you will see it is a complicated curve.  Here is a typical curve I picked up if you are interested.  It explains what makes each region take the value it does: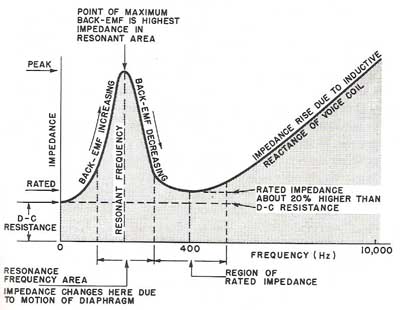 You can easily see that the impedance is nothing like a standard value across the frequency spectrum.  He also notes that the quoted impedance is above the DC resistance.
If your problem is that cabinet, and I think that is a possibility, then a simple solution is to not use it.  If you felt confident you understood enough to get this right then you could consider putting a power resistor in parallel with the speaker to drop its impedance a little.  That is wasteful of a little power however but it would make it a closer match.  I have always said that, if the amp likes 8-16ohm, its design output impedance must be somewhere between the two values.  If you were to put a 33ohm resistor in parallel with the cabinet, that brings its impedance down to just under 11ohm.  You would need a big one but aluminium cased resistors are only a couple of pounds, cheaper if you have a RS account!  Here's an example of the sort of thing that would be best just so you can see what you are dealing with:
Arcol Power Resistor
My first line would be to only use the amp with the H&K cabinet for a while and see whether that triggers it.  If it stays ok for a couple of heavy outings then I would say we have the answer.  In their defence, H&K are unusual in giving us this ability to run with a range of impedance and there is a limit how far you can go with that.