I've used my LP Trad for a few years now.  In that time the most irritating aspect is that LP intonation thing on the first few frets.  It's very common to find in Gibson LPs that the nut is cut a bit high, knockers will insist it is poor finish despite the accuracy of Plekking and charitable guys like me will suggest that they may do it to allow you to finish to suit your taste.  This leads to the fretted strings in the G, A and D chords down on the first 2/3 frets having a tendency to be a tad sharp against the open ones if you grip them too tightly.  It's a minor irritation to me but it is something I would rather not have.
Recently I picked up a G-Force system very reasonably on ebay, (long live the Luddites!)  I retrofitted it to the Trad, (no you can't retrofit it says Gibson, just watch me says I).  Apart from the PCB ears being about 0.5mm too wide on each side of the narrowest part of the headstock it's a perfect match.  Of course I don't have the new Gibson zero fret nut to match it.  They say that having a zero fret nut reduces friction so the G-Force has an easier time.  Gibson has its own metal version but it looks horrid and it is reputed to wear at a ridiculous rate.  With the normal nut it works without issue but I thought I'd get the whole kit sorted out at the same time.  So I did a bit of looking around and found these: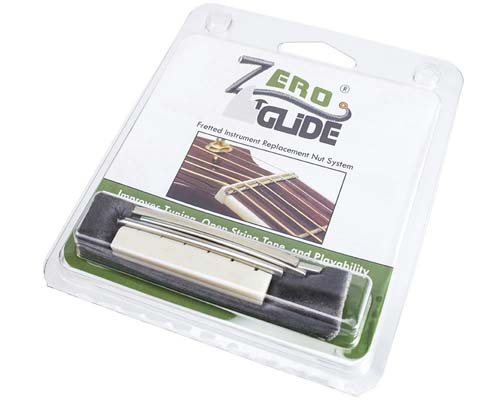 They were not expensive so I decided to take the plunge and have a look see. I sourced one very cheaply, (almost half list price), on ebay in USA including postage so I was well chuffed.  It arrived, it looked fine, I've just fitted it and I have to say, while it took me a couple of hours as a slow methodical worker, it was pretty simple to fit and it went together really well. There is a lot of sanding to get it down to a perfect fit in all directions but apart from that it's not complicated.
Results?  Pretty staggering I have to say!  The whole intonation issue has vanished.  The first fret clearance is much lower than before without any noticeable problems.  And I have a suspicion that those open strings sound a little richer too though I would have to say that could easily be my imagination as I couldn't compare the original and modded setups properly.  The overall sound is certainly no worse than before in any way.
Any other Lester users out there who have the same thought as myself about those lower frets would do well to consider this as a cheap easy to fit alternative which deals with it once and for all.