Don't laugh but give this a try for a couple of days:
1. Get two bins that are big enough for your hands to lay flat in.
2. Add 8 cups of ice to the first bin and add cold water to about 3 inches high (7.62 cm).
3. In the second bin add about an inch of hot water. Just hot enough it doesn't burn your hands but really gets the job done. Don't be a John Wayne on this step and burn yourself please!
4. Start with your hands in the hot water for 3-4 minutes. Slowly loosen them up. Flex them, rub any fingers that are sore with your hand and finger flat on the bottom of the bin.
5. Put your hands in the cold water for about a minute or for as long as you can tolerate it. This hot/cold combination of water causes vasodilation of the blood vessels in the hands and helps support circulation and better health.
6. Repeat steps 4 & 5 two to three times. Add more hot water every time you go back to the hot bin.
6. Do this about fifteen minutes before you play and tell me if your playing does not improve! I will be really surprised if you don't play better.
Here's a picture of my setup: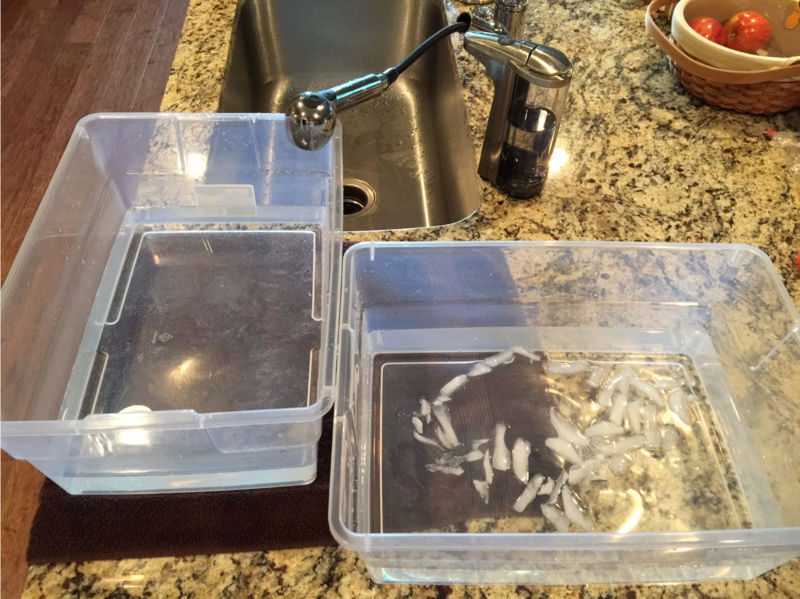 Let me know how this goes for you!  If it helps then spread the word to other band members.